DR. ZAHI HAWASS: Egypt is different from any country in the world. We know that Herod the First heard about from the magi of the birth of a new child, that will be the king of the Jews. Then Herod the First of course was scared about his kingdom, that if someone else will be the leader of the Jews, this will threaten his kingdom. Then he ordered a search that has to go everywhere in Bethlehem to find out this new boy that was born. That's exactly what's happened. Then Joseph the carpenter, and Mary, they had to leave Bethlehem. And the only safe place for them in my opinion—they found Egypt is a safe place that they can escape from this king.
They stayed in Egypt for three years and a half. And I think because they were afraid of Herod and his people, they never really stopped in a place for a long time. And that's why they stopped from a place to a place. And that was holy places to the Christians until today, and that's why many churches were founded in the spots that the Holy Family actually stopped. If you go to any places like this, even Muslims and Christians, they still repeat the miracles that Jesus showed during his visit to Egypt. All of these really are important evidence of the presence of the Holy Family in Egypt.
S. KENT BROWN: James E. Talmage makes the guess that the presence of Joseph and Mary in Bethlehem with this child could raise questions. And we know already that Herod's antennas are up. And so there are people who are suspicious of this child. Plus there's already been talk around. There was the incident of Zacharias at the temple, when people notice that he was in there longer than usual. Then he comes out, and he can't speak or hear. And then there's chatter from Bethlehem, where there are shepherds who have seen an angelic manifestation. Then on the occasion of the offering of the sacrifice for his birth, Simeon and Anna both undergo interesting experiences when they run into Joseph and Mary in the temple as they bring the child, and they talk. So already there's a chatter inside this society about this child, about something going on. And that in effect allows forces to line up against Jesus, which are part of this world. But there are other forces out there which are lining up against Him, which are part of the unseen world as well. And somehow those two worlds begin to knock against Joseph and Mary. They don't know all of what's going on, but it will become clearer later on in the gospels that this is all happening.
We are here at the monastery of Syrian in the western desert of Egypt, which is partly dedicated to the visit of Mary, Joseph, and Jesus, who are said to have come through this area during their flight from King Herod.
The period of Jesus' early life, between the time his parents bring him to Egypt, and he begins his earthly ministry at age thirty, is shrouded in silence, thus inviting speculation and confusion. As with any probe into the life of Jesus, one can find answers in the gospel texts, and in the works of contemporaneous Christian and Jewish authors such as Philo and Josephus.
"Herod, having survived the slaughter of his son five days, died, having reigned thirty four years since he had caused Antigonus to be slain and obtained his kingdom. Flavius Josephus."

"Behold, an angel of the Lord appeareth in a dream to Joseph in Egypt saying, 'Arise, and take the young child and his mother and go into the land of Israel, for they are dead which sought the young child's life.' . . . And he came and dwelt in a city called Nazareth" (Matthew 2:20, 23).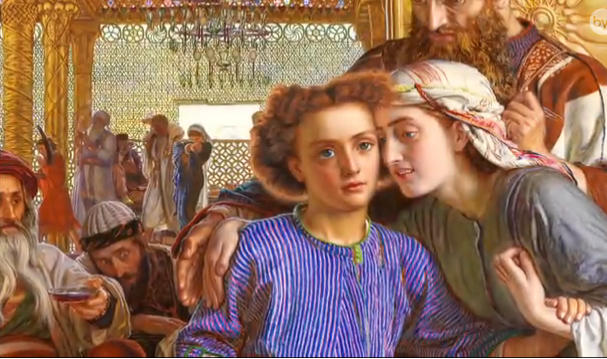 S. KENT BROWN: The city of Nazareth, a place forever tied to the name of Jesus, the place where he grows from childhood to manhood. In the time of Jesus, Nazareth is a village so insignificant that it is not even mentioned in most of the records of the time. Some scholars estimate that fewer than five hundred inhabitants lived here. Luke tells us that here in Nazareth a young woman named Mary receives a visit from the angel Gabriel, who tells her, "Thou shalt conceive in thy womb and bring forth a son, and shalt call his name Jesus" (Luke 1:31). Matthew records that after the family flees to Egypt with the young child, Mary and Joseph return to Palestine and settle back into the village of her youth. Here, unknown in the streets of Nazareth, walks the God of Abraham.
PAUL Y. HOSKISSON: A lot of people have wondered why Jesus Christ's childhood isn't talked about very much in the scriptures. We have just barely that one verse. But people have tried to fill in the gaps on that. Some of the apocryphal literature talks about His childhood and the kinds of things that He did when he was growing up. For some reason the Lord has decided that that's not what He wanted to let us know about.
MICHAEL D. RHODES: The natural tendency of human beings is to want to fill that in, and there are—at least anciently there were many infancy gospels of Jesus Christ that came up with all kinds of remarkable stories where he'd make wood in his father's shop sprout, that he'd get animals to do what he wanted, perform all kinds of remarkable miracles—all of it pure fiction of course. The gospel writers didn't write much about it because it really wasn't that important.
JOHN S. TANNER: We know that his parents would have raised him to observe the feasts—we see him at feasts—to have taken him to the temple, probably in the synagogue, and also the home. And all those elements—feasts, temple, synagogue, home—were all critical in the way that a Jewish boy would be raised.
He would have been introduced to the study of the scriptures. He would have gotten that in the home; He would have gotten it in the synagogue; and He would have gotten it in the temple. That would have been a prominent part of His life. Prayers would have been uttered every day, which takes you back into the scriptures as well. It would have been a pious home, an orthodox home, an observant home.
CECILIA M. PEEK: There would have been significant overlap between secular and religious education, and presumably the synagogue would have been the center of Jewish educational life. And one interesting irony, of course, in Christ's life is that as He studied the scriptures He would have been studying about Himself, and reading prophecies of Himself and His own life.
ANDREW C. SKINNER: The only solid scriptural evidence we possess concerning Jesus' youth takes place at the ancient temple site. When Jesus was twelve years of age, His parents brought Him to Jerusalem to celebrate the annual Feast of Passover. It was on that occasion that Jesus taught in the temple. When His parents, Joseph and Mary, were returning back to Nazareth, about a day's journey away from Jerusalem, they discovered that Jesus was not with them. And so they turned back to Jerusalem to seek the young boy.
JUSTIN SU'A: Now they had been traveling from Jerusalem for a day's journey with a Galilean company, headed back to Galilee from the Passover. And they finally realized that He had not been there. I imagine them searching frantically for Him and wanting to retrace their steps, but I think it added a little bit more pressure because this just wasn't any child. Not only was this their beloved child, but it was also the Only Begotten Son of the Father.
VICTOR L. LUDLOW: What Luke tells us is that "it came to pass after three days they"—his parents—"found him in the temple, sitting in the midst of the doctors [or the teachers], both hearing them, and asking them questions" (Luke 2:46). But if you'll notice in the footnotes, it tells us "and they were hearing him and asking him questions." So this really was at least a two-way dialogue, because He was teaching them things. In fact, I suspect that some of these teachings He was giving them as a twelve-year-old were almost the same basic teachings that some twenty years later they would hear from this miracle worker from Nazareth, who was causing them so much grief and anxiety. Now from a twelve-year-old maybe they could take these questions and these ideas. He was no threat to them. But obviously some twenty years later as an adult, teaching probably the same basic things, they considered Him a great threat to their power and their authority.
JUSTIN SU'A: When Mary and Joseph enter the temple, they offer Him a firm reproof when Mary says, "Why hast thou thus dealt with us? Behold, thy father and I have sought thee sorrowing." It's interesting to see Jesus' response: "And he said unto them, 'How is it that ye sought me? Wist thee not that I must be about my Father's business?" (Luke 2:48–49).
From this answer we can deduce two things. Number one, Jesus reminds Mary that He is not the son of Joseph, but the Son of the God in heaven. And it just serves as a reminder to her that number two, that He realizes His divine potential, He understands His role in the plan of salvation, even at the tender age of twelveyears old.
S. KENT BROWN: The fact that He's born, I believe, offers an emphasis on the real nature of His experience among us: that He did not pass through this life as a spirit, as a person who didn't feel as we feel, who didn't see as I see, who didn't touch as I touch, and be affected as I'm affected by events and other sorts of things that surround my life. For Him, everything was as real as it is for me, and that means that He understands me.
S. KENT BROWN: The extraordinary circumstances surrounding Jesus' birth set the stage for the extraordinary life to follow. For as the prophet Isaiah writes about the child born to us, "of the increase of his government and peace there shall be no end, upon the throne of David and upon his kingdom, to order it and to establish it with judgment and with justice, from henceforth even forever" (Isaiah 9:7).
The announcement of the birth of Jesus of Nazareth, into the humblest of circumstances, has resonated through the centuries with kings and peasants. Diverse cultures across the world look to the story and find themselves in it. And though little is known of His early childhood and youth, the account of the boy Jesus teaching the scholars in the temple points to the course the Savior will take in establishing His kingdom on the earth.