Brady's Beliefs: Witness of Jesus Christ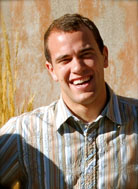 It's never easy to put into words my feelings about the Savior. Having spent collectively over 2 years living in either Taiwan or Mainland China, I've come to love the Chinese idea that there is a connection between how we think and how we feel. While the Chinese people that I love are very intellectually minded, their language implies an almost imperceptible link between how we think and how we feel. I'm not quite sure whether I think the Lord is the Savior, if I feel He is the Savior, or both. While I believe I knew Him before this life, I don't remember it. He has never shown Himself to me, nor could I honestly say that I've heard His literal voice. That being said, I'm happy to report that despite doubt and confusion, these tender spiritual feelings and senses that I have about Jesus Christ are really all that I've needed. Even though it's hard to conceive how the life of one man could have such an impact, I know it's true. I offer my own life as proof that the Savior cares about us on an individual basis. I believe that He thinks about me. I trust that He knows who I am. I have confidence that He understands me. I know that He lives and is probably helping someone right now. I testify that He will come to this earth again.
While my connection to the Savior and His atonement is seemingly abstract, it's my most innermost motivator, course-corrector, and reason for doing what I do. I've felt His forgiveness when I've sinned and apologized. I've felt His hope when I've been worried or concerned about how things will work out. I've felt His approval when I've tried my hardest to just be a good boy.
It says in The Bible that "we have not an high priest which cannot be touched with the feeling of our infirmities; but was in all points tempted like as we are, yet without sin." Our invitation is to "come unto Him." We are admonished to "therefore come boldly unto the throne of grace, that we may obtain mercy, and find grace to help in time of need."
This is the Jesus Christ that I know. He is not past feeling. He chose to feel what we feel on a daily basis. He knows what it's like to live in today's world. He is one who is acquainted with the emotions of temptation. He is one who knows what it feels like to be lonely. He is one who knows our longing to be around dear family and friends. He is one who wants to help us purely because He literally comprehends how hard our lives can be. He is one who smiles with me when I have fun with my friends. He is one who cries with me when I don't understand why things happen the way they do. He is one who even cares about my dating life and has felt the highs and lows of all that that entails. Through the Spirit, He can coach us through these times. He comforts. He reassures. He directs.
The Book of Mormon describes the level of living to which I hope to attain; "whosoever should believe that Christ should come, the same might receive remission of their sins, and rejoice with exceedingly great joy, even as though he had already come among them." I rejoice to know that some day I will be personally accountable to the Lord. I am not scared, but live expectantly and according to this knowledge. It helps me stay safe from sin. If I let it, this knowledge has the power to remove all sense of instant gratification and endows me with eternal perspective. It helps me live as if "He had already come". He will not be a stranger to me on the day of our physical reunion because I have already developed confidence in the unseen reality of our relationship.
I choose to place my faith and trust in Jesus Christ. He is the Messiah.
[mappress mapid="9″]